Yes, it's true! We're offering a $10,000 cash incentive for qualifying new housing construction in our growing community. We're also offering a $5,000 buyer incentive for houses in between $100,000 and $180,000. Learn more about select residential development areas, contact with a Realtor®, and learn more about Newton in the links below.
Ready to call Newton home? Learn more about our housing initiative here:
Interested in Learning More about Newton's $10,000 Housing Initiative?
Ask one of our realtor partners about qualifying homes currently on the market, or ask one of our builders constructing beautiful new homes in our community.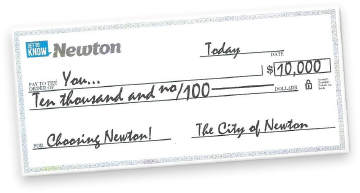 Latest Residents who now call Newton home.
Building a New Home?
Check out some of Newton's great developments ready for new construction or spec builds
Connect With a REALTOR®
Click the links below to connect with one of Newton's area real estate experts. We have several lots and new construction spec homes ready to move in to!
Need financing? Save $300
Several local lenders in Newton are offering $300 off closing costs when you finance your new construction.
There's a lot to love about Newton
Learn more about our schools, attractions, and amenities
There's a Welcome Package Waiting for You
Once you move to Newton, we want to introduce you to some of the best attractions in town! Enjoy gift cards and passes to the Centre for Arts & Artists (Classes), Hy-Vee ($50 gift card), Iowa Speedway (Season passes for 4), John Lee Photography (Family Session and Small Cover Book), Maytag Public Pool (Family pool pass), Newton Daily News (subscription discount), Newton YMCA (Family membership discount), Skiff Medical Center Gift Shop ($50 gift card), Westwood Golf Course (10 rounds of golf).